After-school care, for most children, is viewed as little more than babysitting that covers the time the school day ends for the child and when their parents get off of work. This line of thinking causes a severe undervaluation of what a quality after-school program offers school-aged children. At Darlene's Wee Care 4 Kids, we know what a difference that an after-school program can make for kids and take our role seriously. In today's blog, we will highlight just a few of the ways that an after-school program can help your children succeed.
Improve Academic Success
Study after study, including longitudinal and meta-analysis research, suggests that even at-risk youth who were enrolled in an after-school care program achieved significant improvement in math and reading skills as compared to their peers who were not. Even after-school programs that did not offer homework or a set curriculum offered children the opportunity to learn and practice hands-on learning through play and interaction with other children.
Prevention of Risky Behaviors
A lack of constructive after-school care has been proven to put children at high-risk for dangerous or reckless behaviors that can cause a negative impact on their life. In an environment that lacks positive outlets for energy, school-aged children are at risk for engaging in activities that include drug and alcohol use, sexual activity, and delinquent behaviors. After school programs offer a constructive environment with age-appropriate activities for children to engage in, reducing juvenile delinquency.

Improved Health
After school programs can lead to improved health and overall wellness in the children who attend. After school care is usually lacking in screen time and encourages active play, which inadvertently teaches children about the importance of exercise and avoiding a sedentary lifestyle. Additionally, most after-school care includes snacks and education about different food groups and nutrition, which is invaluable in the long run.
Social Development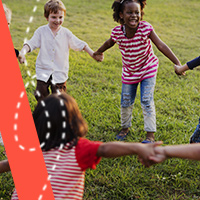 After school programs expose children to social interactions that they would not have at home alone. These interactions help develop a sense of community and establish a role within society. Interactions with peers have a significant impact on self-esteem, confidence, and body image. Socialization in childhood has been linked to success and better quality interpersonal relationships in adulthood. Interaction with other children also helps develop resilience adaptability.
Inspire Creativity
Social play, that is a natural occurrence in daycare centers, encourages creativity and imagination to thrive. Whether it is through free play or exposure to craft time, children in after-school care are encouraged to explore their environment and interact with other kids. Creativity and imagination are essential for growth and development and creates more successful adults.
At Darlene's Wee Care 4 Kids, our after-school program offers all of the benefits listed above, in a safe and fun environment. Our friendly and attentive staff is passionate about supporting young minds and facilitating positive growth and development. For more information or to enroll your child(ren) in one of our programs, call us or visit us online today!